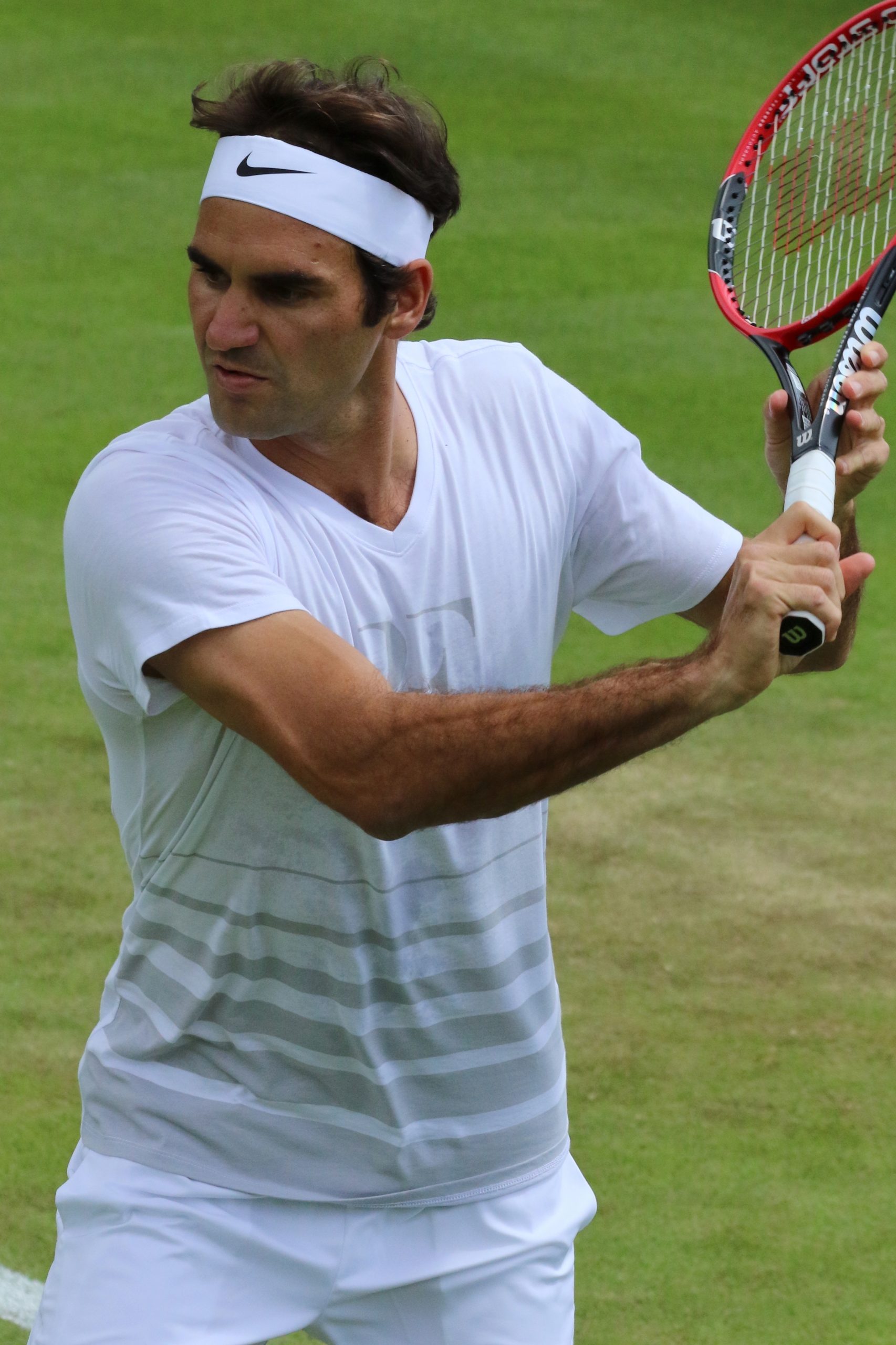 Definitely a star after the recent Australian Open winning and 16th slam title.
A Public Figure beyond Tennis
Apart from his extraordinary success on the tennis court, Roger Federer is a legend of sport far beyond anything that tennis has ever seen. His story can be said to rival that of the great Williams sisters. He was not born in a poor country or to poor parents or to a marginalized community. However he has been a transformative figure in the whole of tennis as well sports in general. The records are heavily in his favor, having just won his sixteenth singles grand slam cup at the expense of the ridiculously overhyped Andy Murray. His ardent fans point to the fact that apart from being a remarkable tennis player, Roger is also an extraordinary human being whose life is an inspiration to everyone. This article is a meager attempt to describe the towering background and achievement of such a great figure. It is neither definitive nor exhaustive but it is a great start to exploring the life and times of the great that is Roger Federer. The tennis has been explored to death thus my decision to incorporate some of the other aspects of his rich life in order to create some balance.
Birth and Education
Roger Federer was born in Switzerland in a small town called Binningen that is based not too far off Basel. His father shared an identical name with Roger and his mother was one Lynette Durant who originated in South Africa. This means that Roger Federer is both Swiss and South African but is normally associated with Switzerland even when he is entering tennis tournaments. Having grown up in Switzerland, a country with a rich heritage or multi lingual usage, he acquired an affinity for most of the major European languages including German, French and English. He is able to speak the localized dialects as well.
It is said that he was raised as a catholic and regularly associates himself with the religion on an informal basis. Although he was required to undertake military service as a Swiss citizen, Roger Federer was in the end excused since he has a long standing back problem. One has to wonder how a great tennis player in one of the most rigorous activities possible can be excused from military service while continuing to play and win great tournaments. Perhaps it was thought that it would not be conducive to ruin his career just for the sake of a military that really does not have too much conflict in a neutral country. Either way the facts indicate that Roger Federer would have been willing to undertake his obligations as necessary.
The Roger Federer Family
Recently Roger Federer married Mirka Vavrinec. She had been his long term girlfriend and personal manager throughout his tennis career. Mirka is a competent tennis player and she has been listed on the Women's Tennis Association. They met at the Olympic Games in Sidney around the year two thousand when they were both competing for their respective nations. Despite her quite respectable career, Mirka was forced to retire in the year two thousand two due to a foot related injury. Her main role in Roger Federer's life was to act as companion privately and as a public relations manager in public.
As was expected for a long time, they were eventually married in the year two thousand and nine in a private ceremony. Despite the almost obsessive media interest, the wedding details were never publicly proclaimed apart from a brief media statement to the effect that they were both very happy. At the time Mirka was heavily pregnant and she did in fact give birth to twins on the twenty third day of July. They decided to call their children Myla Rose and Charlene Riva respectively.
Although it was thought the marriage and consequent birth of his children would hinder Roger's concentration on his tennis career, he has since continued to win grand slams and is currently the top ranked player in the world as well as the defending singles champion for Wimbledon and the Australian Open. Roger Federer has recently talked about the changing priorities in his life but has also restated his firm commitment to the sport as well as alluding to the fact that he is still enjoying himself. This would indicate that barring a major injury, retirement is not yet on the cards.
Roger the Charity Organizer
Roger Federer is undoubtedly one of the wealthiest sportsmen ever and he seems to be keenly aware of his position of privilege. It is not surprising that he is often involved in various charities and philanthropic initiatives. The cynics might say that as a major celebrity, Roger will know the value of holding a starving African child in front of the world's media. It may have worked for Bono and Madonna but the consensus seems to be that Roger's generosity is genuine and he really wants to help people who may be in a much worse situation than he could ever possibly encounter.
The Roger Federer foundation came into existence in the year two thousand and three. The main objective and vision that Roger had in mind was to set up a facility that would improve the lives of people who did not have as much as the rich sports people that he normally interacted with. He was also interested in developing sports beyond the elite world that most tennis players are accustomed to. Although the interests are typical of a tennis player, it is also important to recognize that Roger Federer has been trying to give back to communities which he is not particularly affiliated to. It shows a maturity that has enabled him to become one of the most respected sportsmen that has ever lived.
The examples of Roger Federer's charitable work are numerous. Their variety and scope speak of the great man's reach to parts of the world for which tennis is but a distant elite occupation. At the United States Open Championships in the year two thousand and five, Roger decided to auction his tennis racquet with the proceeds going to the victims of the Hurricane Katrina disaster. The cynic in me would say that he had no choice given the situation and the country he was playing in. However the pragmatist in me realizes that there were hundreds and even thousands of people who could have helped but chose not to do so. Therefore we have to give Roger praise for hearing the call when it came.
In the context of his charity work, it is not surprising that Roger Federer was appointed a Goodwill ambassador for the United Nations Children's Fund (UNICEF). It is easy to be skeptical and note that the Brangelina international brand has been here before. However it must be recognized that this was also in recognition of the man's work and his ability to mobilize people across the world for the purpose of good causes.
Tennis players travel a great deal but Roger Federer has also found the time to visit some of the most deprived placed in the world in an effort to raise awareness and also to mobilize charitable contributions. He visited his part time homeland of South Africa as well as the poor people of Tamil Nadu who were afflicted by tragedy when an earthquake caused terrible damage. Most recently we have seen Roger Federer teaming up with fellow tennis players to contribute to the charitable efforts for Haiti in the wake of the recent disaster.
Truly Great People Have Scars
Roger Federer is not perfect, although many of his fans have cited his tennis as some of the best that they have ever seen on any court. When he won the career grand slam and overtook the impressive records of Pete Sampras his greatness was confirmed. However even he is prone to occasional wobbles. I felt a slight irritation with the whole Wimbledon shoes and stars saga. One almost felt that a tennis player owned a tournament. Venus Williams had a similarly impressive record there but she did not go to great lengths to lord it over the tournament. Yes her sister is a diva in her own right but Roger should really have known better.
The tears and drama when Rafael Nadal beat him were at best pathetic and at worst petulant. I was particularly irritated that he seemed to want to take away attention from the Champion just because he was not getting the titles he wanted. The bitter diatribes when he seemed to be fading hinted at a man who was pleasant only because he had never been in a position of losing regularly. When Federer was down, he could almost reach the levels of ungraciousness that we have seen from Serena Williams (another great champion who can be hideous when beaten).
A Balanced View
I must admit that I never really liked Roger Federer in the beginning. There was something too perfect about him and I was irked that the media had decided to go on a love fest whenever he was playing. I hated him for winning again and again with almost effortless ease. However when I saw him struggling with younger players and being written off by the same media which yesterday praised him to the heavens, I was moved and began to understand that he is truly a great tennis player. And to think that a jumped up tennis minion like Andy Murray is touted to take his place is an insult beyond belief.
3 Responses to "Roger Federer"