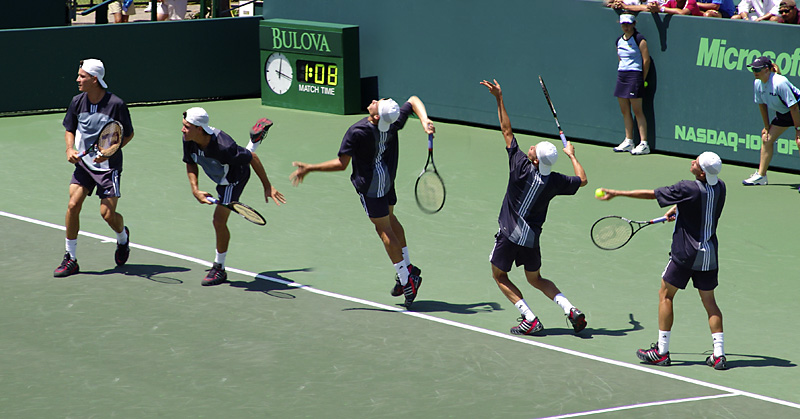 Granted, tennis is a wonderful sport and the shear fact that you get to witness two top athletes in a heavily contested tennis match can be considered an experience in itself. However, let's not forget that the popularity of this sport has always been linked to the status and reputation of the tennis players. Let's review the achievements of five of the most esteemed male tennis players in the history of the sport.
1. Roger Federer
With 17 grand slams wins, Roger Federer is without a doubt the best tennis player of all times. To refresh your memory, the Swiss tennis player managed to win 4 Australian Open, 5 US Open, 7 Wimbledon and one French Open championships so far. In addition, Federer held the top position for 302 consecutive weeks and he is the only player to win 10 successive grand slam finals.
2. Pete Sampras
Nicknamed Pete Pistol by tennis aficionados worldwide, Sampras ended his career with a total of grand slams 14 titles under his belt. Pete Sampras dominated the tennis scenes during the 1990s and won one French Open, 2 Australian Open, 5 US Open and 7 Wimbledon tournaments. The American tennis player was highly appreciated for his magnificent serves, strong forehands and backhands that generated an unbeatable spin, skills that helped him remain on the number one tennis player position for six years in a row.
3. Rafael Nadal
Rafael Nadal became a worldwide known name in tennis after the Spanish player won his first French Open in 2005 at the age of 19. Since then, Nadal won 8 French Open, 2 Wimbledon, one US Open and one Australian Open, a total of 12 grand slam wins. Although the future of his career is uncertain because he suffered a serious injury earlier in January, Rafael Nadal is among the few tennis players who won all four grand slams. At the age of 27, Nadal is at the peak of his career and it would be a real loss if he were forced to retire due to his back injury.
4. John McEnroe
Known for his unmatched talent in singles and doubles championship as well as his insatiable hunger to win, John McEnroe is an American tennis player notorious for his anger on the court. Even though McEnroe has won 7 grand slams in his career – 3 Wimbledon and 4 US Open championships – take note that he also registered 77 tour titles. Currently, John McEnroe is one of the top commentators for ESPN during the grand slams.
5. Bjorn Borg
Counting 11 grand slam wins and a very promising career in tennis, Bjorn Borg shocked the entire world when he announced his retirement at the age of 26. Although he didn't win either of the 3 finals in the US Open, Borg won 5 successive Wimbledon and 5 French Open championships. In fact, the Swedish tennis player currently holds the record of winning both the Wimbledon and French Open for three years in a row. Highly appreciated for his ability to play ground strokes and his double handed backhand, he is known as Ice-Borg in the tennis community.
Photo courtesy Daniel Calonge