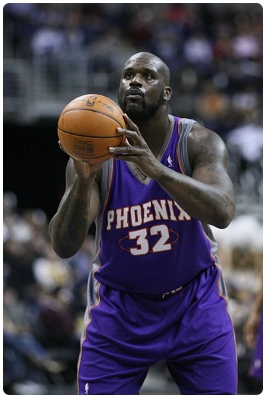 Shaquille O'Neal's stellar achievements include the 1999/00 MVP award, the 1992/93 NBA Rookie of the Year award, 15 All-Star game selections, 3 All-Star Game MVP, 3 Finals MVP, 2 scoring titles, 14 All-NBA team selections, and 3 NBA All-Defensive Team selections. His current rankings are as follows: fifth in points scored, sixth in field goals, seventh in blocks and fifteenth in rebounds. Beginning in 1992, he was signed with the Orlando Magic, helping the team to a total 41 wins and became part of the gold-medal winning U.S. Olympic team in Atlanta. He was later selected as one of the 50 Greatest Players in NBA history that same year.
O'Neal also enjoyed a successful rap career including his debut album, "Shaq Diesel", selling more than a million copies and has recorded four additional albums. Not only that, but O'Neal owns a record label. TWISM (The World Is Mine) is his very own successful clothing line. He is currently one of the most sought after celebrity endorser.
Shaquille O'Neal is a famous name in the world of basketball and is a world class superstar with millions of fans worldwide. The 7"1" player was born as Shaquille Rashaun O'Neal in Newark, New Jersey on March 6, 1972 but he moved to Germany during his childhood to be with family where his stepfather served as a military officer in the US Army. It was during these times that he learned to play basketball. The successful basketball sensation who is also known as Shaq is famous for his powerful backboard shattering slam dunks which are feared by his opponents.
Shaquille O'Neal returns to the US and later played for the Louisiana State University, where he earned his collegiate degree in business. Following his extraordinary performance, O'Neal was drafted by the Orlando Magic. He quickly became the star of the team, winning himself a center position in the team and one of the best centers in the league.
Shaquille O'Neal won the title of Rookie of the Year in 1992 and 1993 and led his team to the NBA finals. He spent four successful years with the Orlando Magic until he signed as a free agent with the Lakers. He led his team to win the championship with Kobe Bryant in the team. The dynamic duo was unmatched and feared by others in the court but the relationship disintegrated in 2003 which eventually led to his trade with the Miami Heat in 2004. He went on to win a fourth championship in 2006 but O'Neal was traded again with the Phoenix Suns. Only after a short stint of a season and a half, O'Neal was again traded to the Cleveland Cavaliers where he played the 2009 season with LeBron James.
Shaquille O'Neal is a role model that can serve as an inspiration to the younger generation. He is excellent in his career and one of the best basketball players of his time, and yet, O'Neal continues to pursue his own academic excellence and went on to earn his masters degree from the University of Phoenix.
O'Neal is divorced form his ex wife Shaunie Nelson. The couple had six kids – sons Myles, Shareef, and Shaqir, and daughters Amirah, Taahirah and Me'Arah. O'Neal is involved in various charitable organizations and is also the founder his own charitable organization, The Real Model Foundation.
One Response to "Shaquille O'Neal"