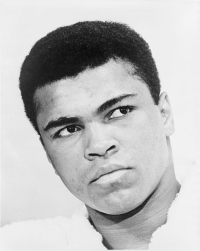 On 17 January 1942, a little boy was born in Louisville, Kentucky. Nothing special one can say, but if you knew he received the name Cassius Marcellus Clay, a bell might ring for you. In 1964, he changed his name to Muhammad Ali after converting to Islam. It was a white policeman and boxing coach, Mr. Martin, who brought Cassius in contact with the boxing sport but Cassius decided to train with Fred Stoner, an African-American who was working as a boxing trainer at the local community center. Throughout his amateur career, Fred Stoner remained Cassius' trainer and coach and thanks to this man, Cassius not only won the Kentucky Golden Gloves six times, but also the National Gloves two times. And if that was not enough, he also won a national title from the American Athletic Union.
Cassius was so good that he was asked to represent the US during the 1960 Olympic Games in Rome, where he won a golden medal in the Light Heavyweight category. The story went that he threw the medal into the Ohio River out of frustration for not being served in a 'whites only' restaurant. It is unknown whether this story is true, but the lost medal was replaced in Atlanta where he lit the fire for the 1996 Olympic Games.
After his success during the Olympic Games, Cassius made the decision to become a professional boxer and won his first match in October 1960. Cassius was known for his unconventional fights and for keeping his hands low. With light-footedness and swiftness, he avoided the punches meant to go for his face. From 1960 till 1963, Cassius wins 19 matches, of which 15 via knockouts, defeating well known professional American boxers.
In February 1964, Cassius Clay was seen with Malcolm X, a minister of the controversial African American Muslim organization 'The Nation of Islam', a religious group that fought for equal rights of the African American. This nearly jeopardized his match against Sonny Liston. Answering questions from journalists on how he would approach his opponent, Cassius Clay mentioned the historical words, "I will float like a butterfly, but sting like a bee" and to his opponent, "Your hands cannot hit what your eyes cannot see". Cassius used his speed and height, making it impossible for Liston to come strongly into the match. Although unconfirmed, Liston tried to cheat Cassius by adding a substance on his boxing gloves leaving Cassius blinded for 2 rounds. Sweat and water, however, cleaned his eyes and in round 7, Liston did not come back into the ring, simulating a shoulder injury. At the age of 22, Cassius Clay becomes a heavy weight champion, the youngest boxer ever to do so. It was only after this match that Cassius, who was raised Baptist, announced that he decided to join the Nation of Islam and confirmed his conversion to Islam. It is then that the name of Cassius is changed to Muhammad Ali.
From then, the reigning Ali had to defend his title many times and started his world tours fighting against boxers from Europe. Early 1967, he had a dirty fight against Ernie Terrell, who had made Muhammad Ali cross by calling him Clay. In the ring Ali kept screaming at Terrell "What is my name Uncle Tom, what is my name!". Terrell lost the game through a knockout, leaving Terrell totally mortified. In spring 1967, Muhammad Ali lost his heavy weight title as he was convicted for felony. He refused to fight the war in Vietnam on religious beliefs and the fact is that he did not see a necessity to fight people who did not hate him. In that same period, Muhammad Ali saw his boxing license suspended indefinitely. Of course, he appealed the court's decision. It would take 4 years before he successfully defended his case before the Supreme Court.
In 1970 while still on appeal, he was allowed to box again. This was the start of a phenomenal comeback. Shortly after his fight against Jerry Quarry which only lasted 3 rounds, it was ruled by the New York State Supreme Court that he was unlawfully denied a boxing license. This paved the way to the fight of the century against Joe Frazier, who like Muhammad Ali, had not been defeated. The two heavyweights met each other on March 8, 1971 in Madison Square Garden. Millions of spectators saw Muhammad Ali losing his first professional match in the 15th round. In January 1974, there was the nontitle rematch. Frazier had in the meantime lost his title to George Foreman. Muhammad Ali won the fight in 12 rounds.
In October 1974 during the "Rumble of Jungle", Muhammad Ali regains his heavyweight title by defeating George Foreman in Kinshasa then Zaire, nowadays Congo. Hardly anyone gave Ali a chance. But Ali would not have been Ali if he did not come with a surprise. He indicated to the press that he would dance to stay away from the hard hits of Foreman, yet he started straight for the man and took George Foreman by surprise. Ali hit Foreman 9 times in the first round and his tactics to wear out Foreman succeeded by knocking him out in the 8th round.
Muhammad Ali retired from the boxing scene after winning for the third time, the WBA version of the heavyweight title by defeating Leon Spinks. In 1984, Muhammad Ali was diagnosed with Parkinson's disease but this did not withhold him to stay in the limelight. He even met Saddam Hussein of Iraq in a plea to release the American hostages in the embassy in Iran. Ali was married 4 times and has got 7 daughters and 2 sons. In 1975, Ali wrote his autobiography 'The Greatest'. In the early 2000's, his second book saw the light with the help of his daughter.
Muhammad Ali is still alive, but his illness makes him homebound nowadays.