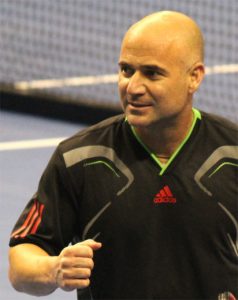 Andre Agassi might be one of the greatest tennis players the world had ever seen, but his personal life out of the tennis courts has attracted much attention as well. Known for his bad boy image, Agassi was aggressive both on courts and in his personal life. It seems that this retired tennis superstar always knew what he wanted and what's best for him. A history maker, he is the only American tennis player who won eight Grand Slam singles tournament in a single row. He's fiercely passionate and he's an inspiration to the new aspiring players. The life story of Andre Agassi never fails to capture our attention.
Agassi was born to the Iranian Emmanuel Mike Aghassian and his wife, Elizabeth in 1970 in Las Vegas, Nevada. Agassi turned professional at the tender age of 16 and never looked back since then. His first ever tournament was held in La Quinta, California where he beat John Austin, 6–4, 6–2 in the first round but lost to Mats Wilander in the second, 6–1, 6-1. He went on to win 60 singles titles, 8 Grand slams titles and an Olympic Gold Medal in 1996. He is the first male player in history to win all four Grand Slam titles on three different paying surfaces, clay, grass and the hard courts.
Agassi is famous for this unique and unorthodox methods of playing and is regarded as one of the most fascinating and charismatic players of this time. He is responsible for reviving back the popularity of tennis in the 1990s.
Agassi is one determined player who would attempt to find end points as quickly as possible and he achieves this by inducing a weak return that is delivered through a series of deep hard shots, and uses the extreme angles to tire out his opponent. His amazing serves provides the sense of anticipation and excitement that draws fans and admirers to his game as loyal spectators. He is famous for his tough slice serve within the deuce service box which often ends his opponents off the court and then followed swiftly by another shot at the opposite corner.
In his personal life, Agassi was married to Brooke Shields but the marriage was short-live and ended in 1999. He met the former Grand Slam Champion, Steffi Graf in the same year and they were married two years later. He now lives with Graff and their son Jaden Gil, and daughter, Jaz Elle in Las Vegas area. They also own several vacation homes.
Agassi has been active in many charitable organizations and founded his own, the Andre Agassi Charitable Association in 1994, that is targeted to help disadvantaged young people in Las Vegas achieve their dreams. For his humanitarian efforts, Andre Agassi was awarded the ATP Arthur Ashe Humanitarian award in 1995. He authored his own biography in 2009 and created a controversy with his confession about using the drug Crystal meth in 1997 which he had lied to tennis official about it.
Popular Videos