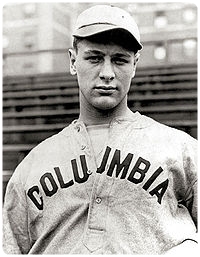 5. Hank Aaron (1934-present day) – "Hammerin' Hank"
Henry Louis Hank Aaron began his career in 1954 playing for the Milwaukee Braves in the position of right fielder. Throughout his career he took part in 23 Major League Baseball seasons, achieving a batting average of .305 with 3,771 hits and performing 755 home runs. Hank Aaron also has 2,297 RBIs which is still a MLB record. His teams include the Milwaukee Braves, the Atlanta Braves and the Milwaukee Brewers for a short period. Worth mentioning is the fact that in 1957 he was awarded the MVP title and during the same year his team the Milwaukee Braves won the World Series.
6. Lou Gehrig (1903-1941) – "Iron Horse"
Although he deceased quite early from a debilitating illness named Lateral Sclerosis, which gradually diminished his ability to bat, Lou Gehrig will always be remembered as the first MLB basemen to play throughout 17 consecutive seasons in the New York Yankees. Within his glory period, Gehrig achieved an impressive .340 batting average, 2,721 hits and 493 home runs, not to mention the 1,995 RBIs. Gehrig received the MVP award twice in his career, in '27 and '36.
7. Christy Mathewson (1880-1925) – "The Big Six"
Christy Mathewson played baseball in a less exciting period of this sport, also referred to as the Dead Ball Era. As a pitcher for the New York Giants, the team with which he debuted in 1900, Mathewson scored 2,507 strikeouts and 79 shutouts. He had a brief period playing for the Cincinnati Reds in 1916, the team where he made his last appearance. A win loss ratio of 373 to 188, an earned run average of 2.13 and the fact that he was an inaugural member of the first 5 to be elected in the Baseball Hall of Fame recommend Christy Mathewson for a deserving 7 place in our list.
8. Ted Williams (1918-2002) – "The Thumper"
Player and manager, winner of the MVP award 2 times and setting a .551% on base that took an additional 61 years to surpass, Ted Williams is another legendary baseball player. Part of the Boston Red Sox, Washington Senators and Texas Rangers, Williams' statistics show an impressive .344 batting average, 521 home runs, 2,654 hits and 1839 RBIs.
9. Rogers Hornsby (1896-1963) – "The Rajah"
Starting as infielder for the St. Louis Cardinals (in 1915), Rogers Hornsby won the MVP and the Triple Crown awards two times each. A batting average of .358 with 2,930 successful hits, 301 home runs and 1,583 RBIs mark his impressive career and most sports critics regard him as one of the worlds' most proficient batters of all times.
10. Stan Musial (1920-present day) – "Stan the Man"
Stan Musial made the All-Star team selection 24 times and played for the St. Louis Cardinals for his entire career. Recording a .331 batting average with 3,630 actual hits, 475 home runs and 1,951 RBIs, Musial was awarded the MVP title 3 times, won the World Series champion title 3 times and the NL batting title 7 times.