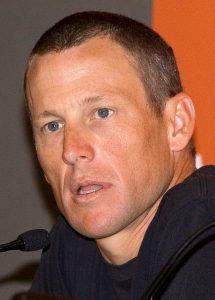 Lance Armstrong is a world class American athlete who won several world cycling championships and also a famous cancer survivor. This remarkable athlete won the highly prestigious Tour de France seven times straight in a row which made him the most successful athlete in the world of cycling. Who is Lance Armstrong and how did he developed such amazing skills to excel both professionally as an athlete and in his personal life as a successful cancer survivor?
This is his story.
Lance Armstrong grew up in a family where money is scarce but his mother saved up enough to buy him a Schwinn Mag Scrambler when he was a kid. He was an active precocious child and was curious to know about everything and wanted to participate in anything that interest him. The young Armstrong was very athletic from the start and he spent most of his time cycling, playing basketball and swimming in the evening. His talent began to show during his teen years and during his senior year in high school, he was qualified to train with the Olympic team and then travel to Russia to participate in his first ever international tournament.
Soon after his graduation from high school in 1989, he was accepted into the U.S. National Cycling team and worked along with the famous coach Chris Carmichael. He learned from Carmichael that it takes more than physical endurance to win a race. It takes strategy and some killer tactics to be the champion. Sure enough, in 1991, Lance Armstrong became the winner of the U.S. National Amateur Championship.
He then rode in the 1992 Olympics game and finished 14th. Armstrong became a professional athlete right after this event. He won the second place in a World Cup race in Zurich, Switzerland and this marks a new beginning in Lance Armstrong's career. He met a man by the name of Jim Ochowicz, who later signed him up with the Motorola team.
Armstrong's career took flight in 1993 and he went on to win ten titles. He was the 1993 World Champion and the US Pro Champion.
In 1996, he won the second Tour DuPont tournament and achieved several major victories. He signed a two million dollar contract with the French Cycling team. This success enables him to purchase a brand new Porsche and a gorgeous home in Austin, Texas. However, he was unable to participate in the Tour DuPont because of his ill health.
Right after his 25th birthday, Armstrong began to cough up blood. He was diagnosed with testicular cancer, which had spread mercilessly to his abdomen, lymph nodes and the lungs. He was immediately put under intensive medical care and had an operation to remove one of his testicles the day after the diagnosis. Armstrong was given a cocktail of drugs to help save is life and control the spread of the cancerous cells.
Armstrong went on to recover from his battle against cancer and proceeded to win several major competitions and serves as an inspiration for the rest of us. In July 2009, he announced plans to return to the Tour de France 2010 with Radio Shack as his team's main sponsor.
---
Oct. 2012 Update
Lance Armstrong loses face and medals
Lance Armstrong, the poster boy for the fight against cancer has been allegedly using drugs all throughout his career and duping the authorities in what seems to be a very organized and studied method of doping. USADA has banned Armstrong and has stripped the cancer survivor of all his medals. Though he claims he is innocent, he is not willing to fight the ban. This comes across as surprising for many people question that if the man knows he is innocent then why not fight the ban and save his face?
"This is my body, and I can do whatever I want to it. I can push it, study it, tweak it, and listen to it. Everybody wants to know what I am on. What am I on? I am on my bike busting my ass six hours a day; what are you on?" this is what Lance Armstrong told a reporter when asked about his miraculous victory. The man now has to bite his tongue as USADA has collected strong evidence showing him as the face of institutionalized doping in cycling. This evidence includes financial payments, documentary evidence, laboratory tests and emails. These prove that Lance Armstrong was in possession of performance enhancing drugs and used them regularly to enhance his performance and even distributed them to his partners and team mates who claim that they were forced into by him.
What has been most hurtful is the fact that Lance Armstrong was the face of fighting terminal illness and was a role model for millions who suffer from cancer. He was also the face of Livestrong and though the brand will live on, it was Armstrong who gave it the recognition it receives till date. It is alleged that Armstrong forced athletes to take performance enhancing drugs and taught them how to evade detection and ensure that it remains as secret. But little did he realize that this scam involved several doctors, clients and athletes and hence could not remain a secret forever? He must have known that sooner or later the truth would have been out for everyone to see and the fact that he continued after that is what has let down several millions of fans.
Though one can never justify his actions, we cannot take away the fact from him that he did fight cancer and make a comeback. That is and will remain inspirational. It is the way that he conducted himself after that which remains a disgrace. Now only time will tell whether he will be remembered for the doping allegations or for being the face of fighting cancer.
One Response to "Lance Armstrong"