Gods of Sport covers all aspects of all sports through the lives of their stars. No matter if you are interested in the World Cup News, Wimbledon History, Masters Golf Tournament, Olympics Games in our website you will find an invaluable source of information. Feel free to contact us with any sports stories you would like us to publish.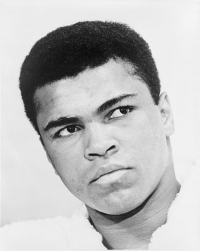 On 17 January 1942, a little boy was born in Louisville, Kentucky. Nothing special one can say, but if you knew he received the name Cassius Marcellus Clay, a bell might ring for you. In 1964, he changed his name to Muhammad Ali after converting to Islam. It was a white policeman and boxing coach, Mr. Martin, who brought Cassius in contact with the boxing sport but Cassius decided to train with Fred Stoner, an African-American who was working as a boxing trainer at the local community center. Throughout his amateur career, Fred Stoner remained Cassius' trainer and coach and thanks to this man, Cassius not only won the Kentucky Golden Gloves six times, but also the National Gloves two times. And if that was not enough, he also won a national title from the American Athletic Union.
Cassius was so good that he was asked to represent the US during the 1960 Olympic Games in Rome, where he won a golden medal in the Light Heavyweight category. The story went that he threw the medal into the Ohio River out of frustration for not being served in a 'whites only' restaurant. It is unknown whether this story is true, but the lost medal was replaced in Atlanta where he lit the fire for the 1996 Olympic Games.
Danica Sue Patrick was born in Beloit, Wisconsin on March 25, 1982 and raised in Illinois. Her talents for racing began to show at the tender age of 10. She began go-karting at this very young age and won some World Karting Association championships. Her professional career began when she moved on England and joined the Indy Racing League at the age of 16. She made history when she finished second place in Britain's Formula Ford Festival which marked as the highest ever finish by a woman.
Sachin Tendulkar is the cricketer who has repeatedly broken his own records to prove his own ability in the world of cricket. Probably the best cricket of the world has been a wonder to the most sports analysts. He has delivered the world of cricket with a new era of cricket, a new dimension to the gentleman's game. Whether it is the test cricket or it is one day international cricket Sachin has always remained the highest scorer as a batsman. Sachin Tendulkar is the one and only one player to score a double century in an ODI match.

Definitely a star after the recent Australian Open winning and 16th slam title.
A Public Figure beyond Tennis
Apart from his extraordinary success on the tennis court, Roger Federer is a legend of sport far beyond anything that tennis has ever seen. His story can be said to rival that of the great Williams sisters. He was not born in a poor country or to poor parents or to a marginalized community. However he has been a transformative figure in the whole of tennis as well sports in general. The records are heavily in his favor, having just won his sixteenth singles grand slam cup at the expense of the ridiculously overhyped Andy Murray. His ardent fans point to the fact that apart from being a remarkable tennis player, Roger is also an extraordinary human being whose life is an inspiration to everyone. This article is a meager attempt to describe the towering background and achievement of such a great figure. It is neither definitive nor exhaustive but it is a great start to exploring the life and times of the great that is Roger Federer. The tennis has been explored to death thus my decision to incorporate some of the other aspects of his rich life in order to create some balance.